Of The Month
Welcome to a section devoted to you. Thats right, this is your chance to let the star of your life shine on the internet. This is how it will work...you E-mail me a picture and a small paragraph of why your Tejano or Tejanita should be The Tejano or Tejanita of the month. It can be anyone you admire..a boyfriend, girlfriend, wife, husband, family, friend, or a Tejano artist. Its all up to you! So come on, send those nominations in.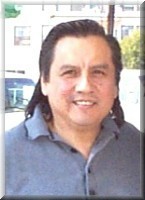 Abel "El WebJefe" Hernandez
I want to pick WebJefe from La Onda Network, as the Tejano of the month. The reason is because he has done many things to help promote Tejano music throughout the globe, via the internet. He constantly updates and lets the public sample music from all the artists. He shows us pictures of the live performances and let's us know about upcoming CD's, Events, and new Tejano bands. Not many Tejano music webmasters take the time on giving us the latest news. Some take a long time on updating with the latest Tejano music scoop. WebJefe takes time every week, out of his busy schedule, because the guy cares to keep us informed. He also provides us with the Tejano Journal, where we can all discuss about Tejano/Mexicano music. For all these reasons, I would like to select Mr. Abel Hernandez a.k.a El WebJefe as Kamarada's Tejano of the month. Keep up the great work on your site, WebJefe! signed, OndaMan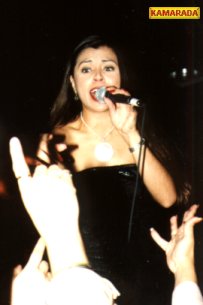 Elida Reyna
HI KAMARADA! MY NAME IS MIMI. I AM FROM HARLINGEN, TX. AND I AM E-MAILING YOU IN REGARD TO THE THING YOU HAVE ABOUT SELECTING OUR FAVORITE TEJANO AND TEJANITA OF THE MONTH. AS YOU AND ME ALREADY KNOW, ELIDA IS THE MOST SWEETEST PERSON. SHE IS MY FAVORITE ARTIST BECAUSE OF HER DEDICATION TO HER WORK, SHE'S BEAUTIFUL, AMAZING VOICE, AND ABOVE ALL, SHE HAS A WONDERFUL PERSONALITY. SHE SHOULD BE THIS MONTH'S TEJANITA. IT WILL BE SO NICE IF YOU DECIDE TO PICK HER AS THIS MONTH'S TEJANITA. MAYBE SHE WILL SEE HERSELF IN THERE AND CAN SEE HOW MUCH PEOPLE ADMIRE HER. WELL, I DO. THANKS A LOT, MIMI
What better way to show them you care, then by showing them off to the world.
Send them to me below